Gourmet Sandwich Platter Catering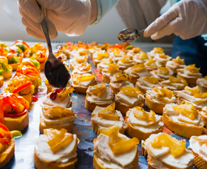 Understated but never overlooked, a sandwich platter from John Claude Corporate Catering makes a convenient and tasty option for business lunches, picnics and casual office events. Our delectable gourmet sandwich selection, however, surpasses that of any local sub shop or deli. Furthermore, each gourmet sandwich platter is supplemented with salads, homemade cookies and temptingly sweet cannoli, practically guaranteeing that nobody in your group will go hungry or unsatisfied. Order sandwich platter catering for your office today!
At just $11.95/per person + tax (10 person minimum), you'll receive:
A chef's choice assortment of our delicious sandwiches and wraps served on a variety of artisan breads garnished and spiced with homemade spreads and dressings.
Sample Platter
Grilled Chicken, Fresh Mozzarella, Roasted Peppers with Balsamic Vinaigrette
Breaded Chicken Cutlet tossed in our homemade Teriyaki Demi-glaze
Oven Roasted Turkey Breast, Gouda Cheese, Fields Greens with Basil Pesto
Pepperoni, Salami, Capicola and Provolone Cheese with sun-dried tomato spread
Fresh top-round of beef served with plum tomato, provolone cheese with a garlic mayo horseradish
Grilled seasonal vegetables with roasted peppers, fresh mozzarella, mixed greens & balsamic vinaigrette
Served on an assortment of:
Seven Grain, Homemade Foccacia, Ciabatta, Assorted Wraps, French Baguette
Package Also Includes: Mixed Green Salad, Pasta Salad, Homemade Cookie, Brownie & Cannoli Platter, Complete Paperware
---
Convenient, delicious and affordable, our gourmet sandwich platters move your casual event beyond the ordinary, offering a taste of excellence that is unexpected but always appreciated.